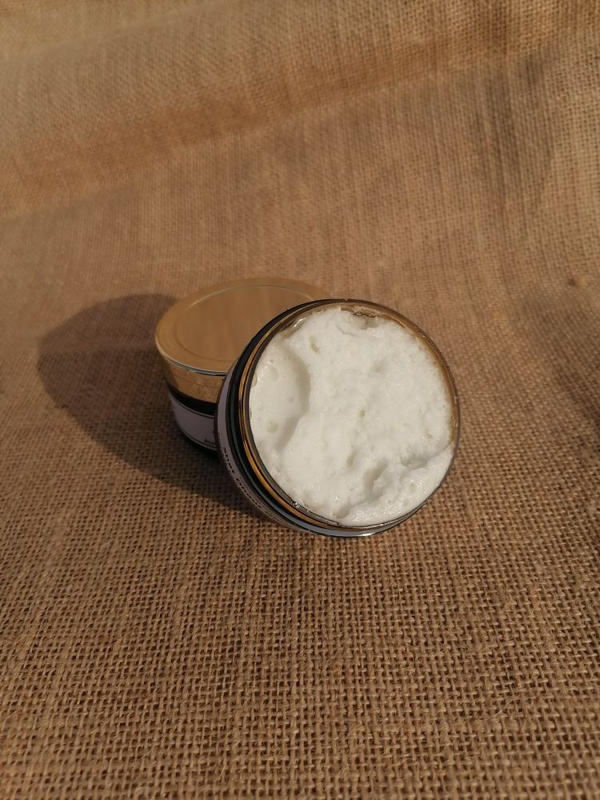 About this Product
⭐Shatadhauta Grihta is an ayurvedic formulation extensively used for skincare treatment. In Sanskrit Shata means 100, dhauta means washed with water, and ghrita means ghee. Shatadhauta ghrita is prepared by washing purified ghee one hundred times with water🌺 ⭐It is a natural moisturizer and anti-wrinkle unguent that keeps the skin cool and makes it soft by nourishing all layers of tissue. Ghee is rich in fatty acids which acts as a natural hydrating agent for all skin types🌺 ⭐Shatadhauta Grihta is a thick concentrated ayurvedic cream that heals the damaged skin by penetrating into all the seven layers of tissue and cures the skin problems from within making the surface smooth and silky🌺 Perks of Shatadhauta Grihta: ❤️The cooling properties of Shatadhauta Grihta provide instant relief from burning sensation and burnt wounds. ❤️Shatadhauta Grihta aids in the rebuilding of dermal tissue and supports healing of skin ❤️It is an amazing astringent, anti-wrinkle and cleansing cream suitable for all skin types. ❤️Its anti-inflammation property helps in soothing the pain caused by skin irritation. ❤️Applying Shatadauta Grihta helps in removing scars, spots and dark circles from the skin. ❤️It's moisturizing property help in curing chapped and dry lips. It can also be applied over the skin before the bath to treat dryness of the skin. ❤️It gives an even-toned skin by removing various scars of acne, chickenpox etc. ❤️Its astringent qualities help in balancing the skin doshas.
Each of these items are handmade by passionate creators & might slightly vary from one another - but that's what makes it special.
Crafted By:
Latherup Naturals
Natural skincare brand made using ingredients handpicked from across the country. Beauty recipes that have been tried and tested for generations. Cruelty free, harsh chemical free and handmade....
read more
Visit store
Delivery Details
Delivery within 10 days across India.
Free delivery above ₹2,000 from Latherup Naturals
Have any doubts related to product?
CONTACT US
3rd Floor JRK Heights, 5th Main, 23rd Cross Rd, Sector 7, HSR Layout, Bengaluru, Karnataka 560102
FOLLOW US