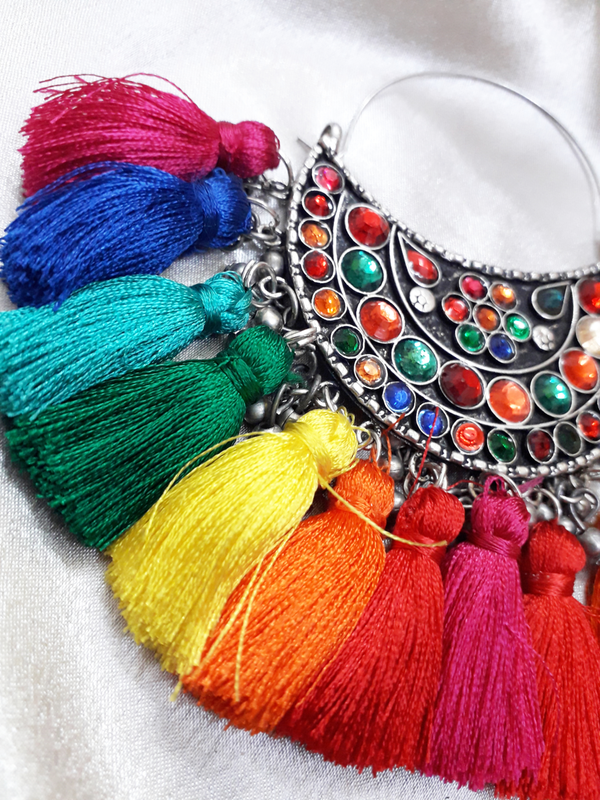 Pride Desi Boho Tassels Chandbaali
About this Product
These Boho Chandbaali Tassels are to celebrate Love Is Love not matter who you are, who you love and how you want to be...

The Chandbaali Tassels are handcrafted with Love in Rainbow colors tassels to make your day brighter than usual.

P.S: These Chandbaali's can be worn as a neck piece too. We provide matching drawstring that you can attach with these chandbaali's and tadaaa your Boho Neckpiece is ready to wear...

Mystique Motto behind these Chandbaali tassels is to spread love in all our people and to decriminalize homosexuality. To accept the change and to change glance of people towards LGBTQ community.
Each of these items are handmade by passionate creators & might slightly vary from one another - but that's what makes it special.
Crafted By:
Mystique Aabhushan
Mystique Aabhushan is a home grown brand. It celebrates the melange of Indian and Tribal jewellery/accessories which are rich in cultures and known for one of a kind....
read more
Visit store
Delivery Details
Delivery within 10 days across India.
Free delivery above ₹2,000 from Mystique Aabhushan
Have any doubts related to product?
CONTACT US
3rd Floor JRK Heights, 5th Main, 23rd Cross Rd, Sector 7, HSR Layout, Bengaluru, Karnataka 560102
FOLLOW US